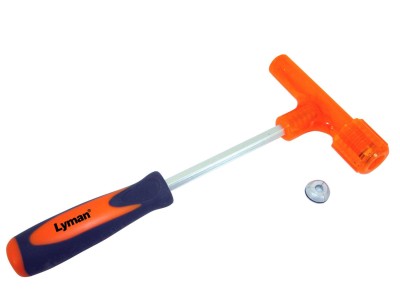 Made with the user in mind; Ergonomic smooth handle with rubber insert for comfort and grip.
Fits a full range of calibers from tiny 5.7 X 28FN to the big Magnums.
Safely discharges loaded rounds quickly without damage to bullet or case
Traps the bullet within the cap. No mess involved.

When reloading bullets, you may realize you put too much powder, or too little powder into your rounds.  This once happened to me when I was reloading .223 rounds.  I realized I had put in too much powder, due to an incorrectly calibrated scale.  What I needed to fix this was a bullet puller.  Although the method seems crude, it works and is safe.  This is a quick easy way to pull bullets the right way.  Its called an inertia bullet puller because the inertia from the lead bullet wants to keep moving, as the brass case comes to an instantaneous stop.  The weight of the lead causes a lot of inertia, as is also a function of how much speed you put into the "hammer" motion.  The Lyman Magnum inertia bullet puller is a simple product, yet important to have.  There are many choices in bullet pullers, but so far this is the most ergonomic and comfortable one to use.  This is a must for reloading bullets!