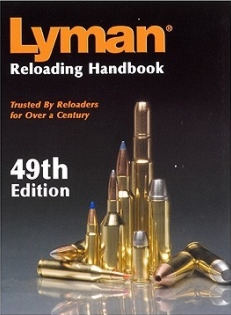 Ill do my best to explain how to reload on this site, but for everything else, I recommend this book
         The Lyman Reload Handbook first guides you through the reloading process and explains all of the components and important terminology.  It clearly highlights the most important parts and steps. All of the instructions are very easy to follow and there are plenty of photos to illustrate points. The main section includes  specifics for different calibers, including some history and details of the cartridge. Much data is included for test results using various manufacture's powder and different weight bullets, with the most accurate load shown.

However, if you are looking for more detailed load data, you might want to pick up an extra book.  You can also find data online at www.loaddata.com.
No book is perfect, and I believe the Lyman reloading handbook, while not overwhelming for the beginner, leaves a bit to be desired for the advance reloader.  Overall, no matter which type of reloader you use, or whatever skill level, this book will have something for you.
Update: If you're looking for a more advanced book, check out my Advance Reloading page for "Handloading for Competition"
A great book for bullet reloading if you could only have one (it does not cover shotshell reloading). It does tend to advertise Lyman refilling devices, however that's much less a problem compared to advertising a single company's bullets or powders.
Lyman's new 49th Version Reloading Guide is the most up to date variation of their incredibly preferred rifle and pistol guide. Most affordable cost and finest offers of Lyman 49Th Publication Reloading Guide Hardcover. The majority of useful client testimonials for lyman 49th version reloading guide 2009 harcover.