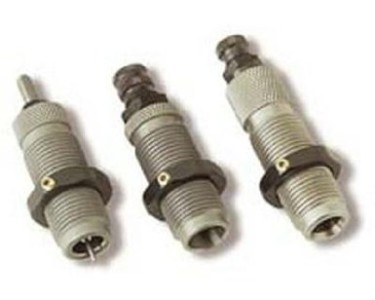 Carbide Die Set comes with of a Carbide, Seater Die, Sizer Die, and Bullet Seater Plug.
Made from case hardened carburized steel.
Precision-drilled and reamed to the same precise exacting standards as high reloading quality demands.
Full-Length Sizer Dies for bottleneck cases (such as .223) have vents to prevent damage to cases.                                                                                                           Hardened steel and polished by hand.

Product Description
This RCBS Carbide Die Set consists of a Carbide Sizer Die, Decapping Unit, Expander Die for expanding and belling the case mouth opening, also a Seater Die with Roll or Taper Crimp and Bullet Seater Plug. RCBS reloading bullets company has over 60 years of precision die legacy past. Employing the industry's most experienced die craftsmen working at RCBS to provide the highest quality bullet reloading equipment. These craftsmen who follow strict RCBS specifications developed over many decades, create more reloading dies in more calibers (over 3,300) than any other bullet reloading die maker out there. RCBS Precision engineered Reloading Dies are for precision bullet reloaders who demand quality each time they are reloading bullets. Every RCBS reloading Die is made from carburized case hardened steel.

The inside surfaces of all RCBS Precisioneered Dies are precision-drilled and reamed to the same exacting standards as the finest gun mechanisms. Full-Length Sizer Dies for bottleneck cases have vents to prevent case damage caused by air that may be trapped and to rid of too much lubricant. Headspace is held to minimum tolerances to avoid changing the case body length during full length sizing. Each RCBS Die is properly hardened and polished by hand. This special trade secret RCBS furnishing produces a die that will serve for many years of constant bullet reloading, and wear caused by case sizing. Eacg RCBS Seater Dies has a integrated roll or taper crimper as appropriate per the caliber the user is reloading.  One may even reload bullets without crimping.  To seat bullets without crimping, just unscrew the die until the crimp ring no longer engages the case mouth. Large and simple-to-adjust hex lock rings use hex head setscrews. Unless otherwise noted, all RCBS Precisioneered Dies have the standard 7/8"-14 thread, usable on many reloading platforms, including Hornady. Dies are packaged in convenient, plastic storage boxes that are intended to protect the dies in shipping and storage. Includes a convenient bullet loading data label.
Customer Reviews:

by Jon
At the time that I was searching for a carbide 3-die set, I discovered that I didn't read the depiction deliberately sufficient.
I gained a lone estimating die as a substitute for the 3-die set. It was exceptionally simple to return that die to the source.
At that point, about-faced to Amazon and I verified that I obtained the 3-die set. The value contrast was negligible.
Goodness, incidentally, the carbide die makes it exceptionally straightforward to size your cartridge cases without needing to utilize any oil. An extraordinary item.
I've just started the reloading process with the aforementioned dies yet so far they are amazing. At the time that even 9mm ammo comes to be so rare you won't have the ability to find it, the aforementioned could be invaluable things. A debt of gratitude is in order regarding amazing aid amazon.
The dies work incredible and following reloading in regards to 2k rounds the dies show no wear whatsoever. The directions state that you need to dissect the dies to clean. I have yet to see any development of carbon or gravel. I disassemble them after each 1k adjusts right to be on the protected side. Might purchase again, however I don't think I will!!!
They're RCBS, so you want culmination. They're breathtaking! Work consummately and sent speedy. I've had them for quite a while and they haven't rusted or destroyed whatsoever.
Salud